Even the cleanest house will need proper deep cleaning from time to time. Household dust, dirt, and clutter can accumulate in your space anytime, despite your daily cleaning efforts. After all, as you focus on your busy schedules every day, dirt and clutter will sneak in without getting noticed. And if you have children and pets around, your home can be in disarray pretty quickly.
That's why you need to schedule a deep house cleaning at least twice a month and pair it with a small cleaning tasks every day to keep your house clean and organized. But the thought of deep house cleaning can be overwhelming for some owners, especially those who have very little time for cleaning. But don't worry since deep cleaning doesn't always have to be a massive undertaking.  
If you follow the right tips, deep cleaning your house will be a manageable task. Read on for a simple guide on how you can successfully do just that.
1. Start By Decluttering
Before you embark on deep cleaning, declutter your space first. This means you'll have to get rid of all the excess things you own, from objects in your bedroom to your kitchen and living room. Take out several empty containers where you can place items you'll donate, sell, or get rid of by having them picked up by a rubbish removal company like this provider. As you reduce the number of furniture and items you own around the house, this will simplify the deep cleaning process and make it easier for you to clean surfaces.
2. Start High Before Going Low
Prioritize high, hard-to-reach surfaces such as the ceiling, ceiling light fixtures, walls, trim, and baseboards. The dirt and dust there may end up on the floor, so getting to them first will prevent you from sweeping or vacuuming the floor twice. 
The ideal tool you can use for cleaning high surfaces is a microfiber mop. Don't forget to spritz a mixture of water and soap onto the mop before you wipe it on the surfaces. Then, work your way down to the walls and the floor.  
When tackling the bathroom, you can use a combination of vinegar and water to remove all mold and mildew growth in the area. For surfaces that a mop cannot clean, you can use a microfiber cloth instead, but make sure to rinse it thoroughly afterward.
3. Do Not Miss Those Windows
Some homeowners get so wrapped up with cleaning the ceiling, walls, and floors that they often forget about the windows. That's rather unfortunate considering how simple it is to clean your windows. You don't need special equipment to get the job done. All you have to use are a water and vinegar mixture, a washing and drying rag, and a recycled toothbrush. At the same time, don't forego cleaning the exterior side of your windows using a sponge, squeegee, and bucket.  
Start by vacuuming the tracks and sills before spritzing your windows with the water-vinegar mixture. Let the substance sit and do its job for a few minutes before wiping the glass from top to bottom. Make sure your wiping direction will be the same for both the interior and exterior sides so it'll be easier for you to spot any streaks.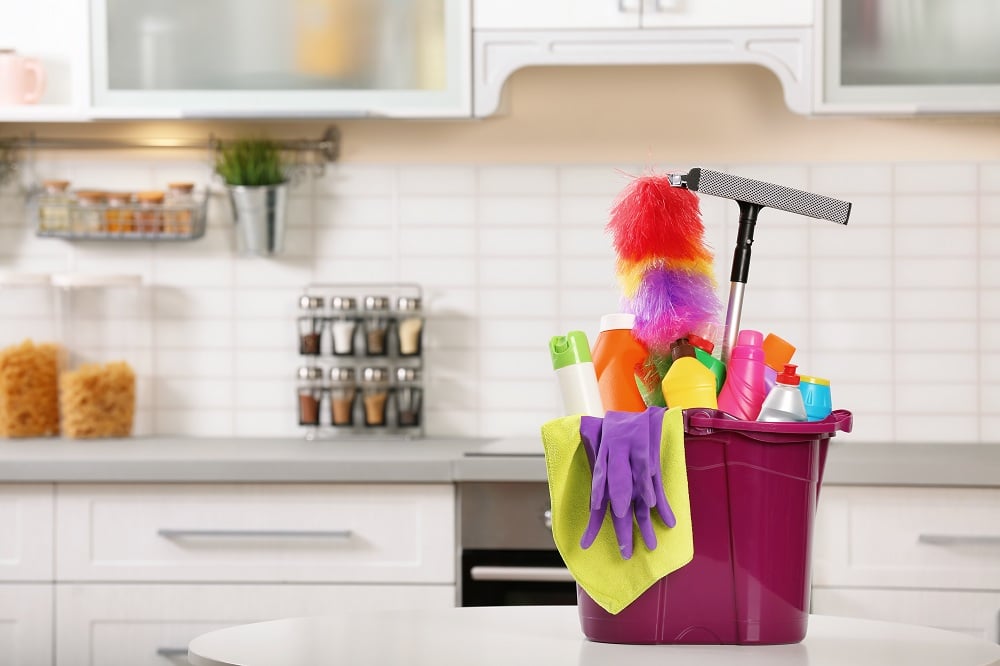 4. Wipe Away And Remove Surface Dust
Wipe all hard and flat surfaces you have around the house, which typically include: 
Tables (e.g., coffee table, dining table, and bedside tables) 

Bedroom shelves 

Kitchen and bathroom countertops 

Kitchen cabinets

Wood furniture 

Surfaces of your appliances (e.g., television, radio, microwave, and stove) 
Don't forget other objects you own that have accumulated dust, including wall art, figurines, picture frames, lampshades, vases, mirrors, and the mirrors and glass walls you may have inside the bathroom. You can use a soft cloth, polish, and furniture cleaner to tackle this task and eliminate all surface dust.
Additionally, remove all the items you keep on your pantry shelves and wipe the dust off of them. You can use a roasting pan to catch crumbs and dust while cleaning. 
5. Launder The Beddings And Freshen Up The Cushions
Collect and wash the bed skirt, pillows, shams, duvet cover, and other down-filled items in your bedroom. Put them under extra spin so they can dry faster. As for the cushions you have in the living room, freshen them up by vacuuming every upholstered surface around them.
6. Wash Curtains, Drapes, And Carpets
Everyone uses different types of curtains or drapes. In cleaning them, follow the specifications stated on the manufacturer's guidelines. Some blinds can be cleaned by using a water and vinegar mixture and wiping them down. Others can only be cleaned by dusting them off using a microfiber cloth since they may be sensitive to vinegar. If you're using curtains, you can put them in the laundry if the care instructions for them permit it. 
The same goes for your carpets and rugs. If you're using a smaller rug, you can put them in the washing machine. However, if you have wall-to-wall carpet, you should hire a professional carpet cleaner to take care of it for you.
Wrapping Up
Nothing feels more satisfying than coming home to a clean, comfortable, and sparkling house. With this simple guide, you can ensure the tidiness of your space without feeling stressed and overwhelmed. So take your time, get your family to help you out, and give your home the deep cleaning it needs and deserves.