There's nothing like crafting a comfortable and luxurious living room that is suitable for entertaining loved ones and for enjoying family time. This primary spot is responsible for setting the tone for the overall décor of your home. Also, the living room is one of the best places to show-off your design aesthetics by experimenting with layers of patterns and textures, color palettes, and a wide range of furniture layouts. The room is meant to be all about comfort and your personality.
Today, when you discuss living room décor with anybody, the one term that you will hear is 'modern design'. But, the term is often misunderstood. Modern décor or design does not relate to a specific style, but there are several design themes associated with it. Broadly speaking, modernism is the rejection of Renaissance, Gothic, Victorian and other such ornate styles. It is an antithesis to previous styles that used carvings, heavy textures and wood tones. With that said, modern design can be anywhere between mid-century to maximalism. The design is defined by its straight, clean lines with minimalism playing an integral role.
Not sure if there is a modern living room décor for your style? Here are a few ideas that will prove you otherwise.
1. Colorful Living Room, Exuding Vibrancy and Liveliness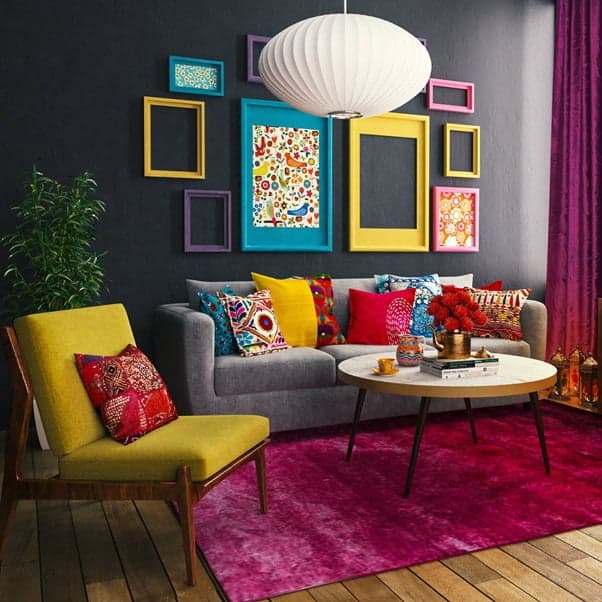 Do you consider yourself a lively, colorful person? If so, your living room and the overall décor of your high-end 3BHK apartment should showcase the same. You can paint the walls of your living room in a neutral color, and add pops of color through the décor and furnishings. With the walls in a subdued/matte color, the other elements in the room get the chance to shine. Throw around vibrant hues around the room in the form of an upholstered sofa, printed cushions and you can even hang artwork in the wall.
2. Mix Of Modern Simplicity With Mid-Century Grandeur
If you are someone who likes to mix things up, a combination of mid-century and modern décor is the right option for you. To set a welcoming, mid-century retro vibe, you can enliven the space with classic pieces of furniture. You can place a leather or upholstered sofa, a round table made of glass, comfortable chairs around and an area rug to tie the place together. You can also add a bit of greenery to the place by bringing in house plants or place a vase and get colored flowers. For your masterstroke, get a modern-style chandelier. This chandelier will be a statement light fixture and while it is mostly used in traditional home décor, you will find chandeliers today in modern and contemporary styles.
3. Showcase Your Love For Books In A Modern Living Room Setting
Space wouldn't be an issue if you are living in a palatial bungalow or even a 3BHK apartment. But, if you live in a studio apartment or a 2BHK flat, you have to be a bit smart when it comes to space utilization. Thankfully, modern living room design has got you covered. If you are a self-professed bibliophile, and need a place to install a bookcase and show-off, the living room is the perfect location. You can have a built-in bookcase and make a bold statement. To show your refined aesthetic sense, you can get a coffee table made of natural wood, chairs with brightly colored pillows or a sofa and metallic light fixtures. The modern living room will have a minimalist appearance, with all your essentials neatly placed.
4. Keep It Simple
Often than not, keeping it simple is the best way to attract attention. You can create a minimalist living room with only the essentials. Use minimal furnishings, coordinate the color scheme and get rid of all the clutter. You can hang a few artworks on the walls, but not too many. Let the entire room appear free and spacious with simple lines.
5. A Boho-Inspired Living Room That Flaunts Your Personalized Style

Designing a boho chic living room refers to creating a very different and unique atmosphere. The best feature of this style is that you can make use of any art pieces that you own, mix colors of your choice and mix furnishings of various styles. Often, Bohemian styles resemble uber-cool European interiors. If you like bright patterns and colors, you can go for the Moroccan vibe. If you are someone who is calm and like to spread calmness throughout the house, you should go for a white bohemian décor. From the walls to the furnishings, you can keep everything white and for a dash of color, you can place greenery or choose an area rug in a muted color. If your luxury 3BHK apartment has a window in the living room, you can hang flowers in small pots to make the space look alive and fresh.
So, what is your personality? Do you like vibrancy around you or just like to come home to a calm, cool place? Regardless, modern living room designs cater to individualized styles and preferences. The mentioned décor ideas should make you feel inspired and get you started on finding the right design for your living room.
Jim Pullman has extensive knowledge and experience in Home Building, Construction, and Design. He writes articles in his free time and partners with content creators to share his expertise with the online community.