Remodeling or building a kitchen can be a significant investment. In most cases, it's one of the costliest renovation projects that people take on in their homes. For many homeowners, balancing budget options with quality supplies is a challenge.
RTA cabinets are one of the ways that homeowners are cutting back on renovation costs. Here's what you need to know about RTA cabinets, the benefits of installing them, and what to know before you buy.
What Are RTA Cabinets?
RTA stands for "ready-to-assemble" cabinets. These cabinets come in packed in pieces for you to put together yourself while following a set of instructions. In most cases, the cabinets come with all of the fixtures you need to put them together, relying on the notion that you have a basic toolset.
RTA cabinets are an alternative to pre-assembled cabinets, which arrive in their completed form, ready for installation.
Pros of Installing RTA Cabinets
There are a lot of benefits to installing RTA cabinets in your home. Here are a few of the pros to consider when deciding if this option is right for your kitchen remodel.
Lower Cost
RTA cabinets are often far more affordable than pre-assembled cabinetry. There are two main factors that impact the price when ordering RTA cabinets. The first factor is that you aren't paying for labor to have the cabinets assembled. The other factor is shipping. It costs a lot more to ship fully-formed cabinets from a warehouse to your home than it does to ship flat packs.
Using RTA cabinets could save you thousands of dollars, depending on the scope of your project.
Simple Assembly
When you order RTA cabinets, you aren't building cabinets from scratch. They're designed to be as foolproof as possible. Notches and holes already in place and images show you what screw goes where. Most RTA cabinet reviews convey just how easy it is to put a kitchen together using this type of furniture.
Shorter Timeframe
When you order RTA cabinets, you can cut weeks off your renovation project timeline. You don't have to wait for them to be assembled or for special shipping. As a result, you're going to receive your cabinets faster than you would if you had them built in advance.
Selection Options
With RTA cabinets, there are a lot of options readily available for you to add customization to your kitchen. As many of these options are pre-fabricated, you might also get a wider selection and availability for colors and styles.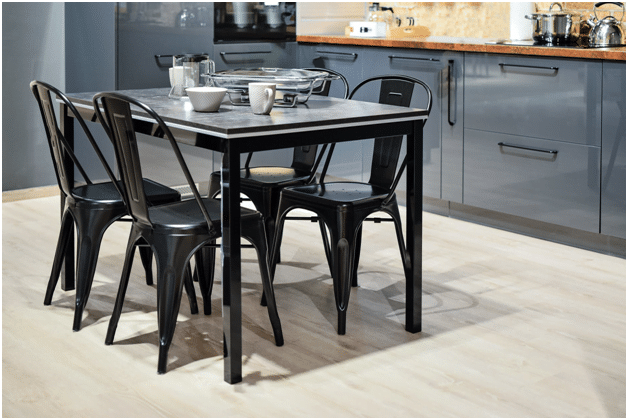 Cons of Installing RTA Cabinets
While the benefits of installing RTA cabinets far outweigh the cons, it's still important to look at the whole picture when making a decision. Here are some of the cons of RTA cabinets.
Difficult for Some
For some consumers, the assembly process is a nightmare that they'd rather avoid. Everyone has their skills and preferences. If the thought of putting the cabinets together stresses you out, it's worth exploring your options. Additionally, hanging cabinets is tricky.
Before you discount the idea of using this type of installation, look into paying someone local to handle the assembly process. A local carpenter or handyman will likely charge you less than you would pay for installation from a cabinet company and still do a great job.
Quality
While many RTA cabinets use high-quality materials, some will cut costs by using lesser-quality options. Avoid getting swindled by reading reviews, taking a closer look at the specs, and doing some research about materials used. Be a smart consumer, and invest your money wisely.
Take your time when considering whether or not RTA cabinets are right for you. With the right supplier and a bit of patience, going this route could save you thousands on your kitchen renovation project.
Jim Pullman has extensive knowledge and experience in Home Building, Construction, and Design. He writes articles in his free time and partners with content creators to share his expertise with the online community.