Hola Friends! Hope you are doing well. While the more than two months of lockdown have been quite tough for all of us, life is getting back to normal with the relaxation given by the government in the form of 'Unlock 1.0'. We need to take all the necessary precautions and stand united in this fight against COVID-19.
Well, it is rightly said that life is all about what happens to you when you are busy making other plans. The recent pandemic is a typical example. I know that it is tough to get rid of boredom sometimes. So, if you are looking forward to experiencing a rollercoaster of intense content with a Power struggle, Deception, Gamble, Family, Revenge, Survival at its core, then The Casino on ZEE5 is something that you should not miss at all. Let me tell you the top reasons why you need to watch this web series.
Story-line of The Casino
A ZEE5 Original series, the concept of 'The Casino – My Game. My Rules' is completely new and refreshing. I personally haven't come across such a unique storyline on an OTT platform. The story of this series revolves around Vicky Marwah, a very simple and humble guy, who is the heir to a multi-billion casino. After the death of his mother, he falls into the trap laid by Rehana, his father's mistress. Things change when Camilla enters Vicky's life and challenges Rehana's dominance.
With all the lead characters playing astute mind games to pull the other down, this series comprising of 10 episodes is sure to keep you hooked to the screen.
Image source – ZEE5.com
Great Ensemble of Cast
Starring Karanvir Bohra as Vicky Marwah, Sudhanshu Pandey as Mr Marwah, Aindrita Ray as Camilla and Mandana Karimi as Rehana, this series boasts a great ensemble of cast. With high-intensity drama, power-packed action scenes, amazing dialogue delivery and brilliant performance, the star cast has given its best in this series to keep up the thrill with each episode.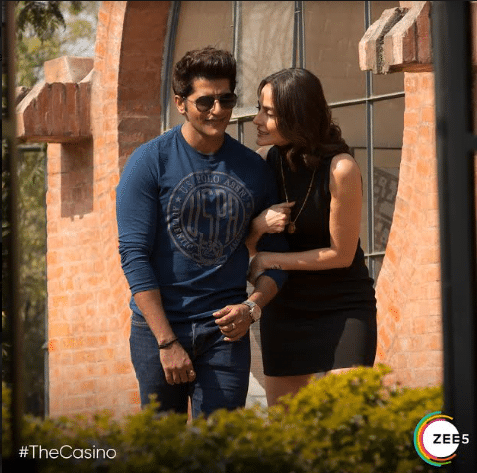 Image source – ZEE5.com
Further, Karanvir Bohra, who is one of my favourite actors, is making his digital debut with The Casino series on ZEE5. I am sure that the dashing hunk is surely going to slay with his performance.
Beguiling Romance
The trailer of 'The Casino' is already out and it is sure to leave you gasping for breath. From sensual dialogues, amazing chemistry to beguiling romance, this series presents a perfect platter to satiate your dose of entertainment.
Brilliant Execution
Get ready to take a dive and experience life at the casino with this web series. With every episode high on glitz and glamour, this web series will present a lot of thrill and action in a brilliant way. Gambling, conspiracy, murder, mystery and revenge, this web series promises complete entertainment through the fascinating world of extravagant and ostentatious gambling.
A complete package of Power, Deceit, Mystery and Mind Games, this series will set the game right. The trailer ends with each of the lead characters clearly stating their motives. While Marwah says 'My game, my rules', Rehana says 'My way or the highway' and Vicky says, 'My legacy, my casino'. Who do you think will win in this power struggle? #MyGameMyRules
To get the answer, make sure to catch this series on 12th June 2020 only on ZEE5.