Headband wigs are non-lace wigs with an elastic cloth attached to the rest half of them. They are ideal for those who are losing their confidence as a result of thinning hair. Aside from offering a natural look and adding charm to a person's personality, headbands with wigs can help boost the confidence of chemotherapy patients.
What to Know about Headbands with Wigs
Headband wigs are light in weight, so the wearer may not feel heavy and sweaty. It allows for the hair's natural airflow because of the highly breathable mesh used for making the wigs. They won't fall off until the user removes them by themselves. Because of open lace, the wigs are more comfortable the conventional human hair wigs. These wigs feature durability, natural look, and affordability. The best thing about these wigs is that they just go on the back of the head while the wearer styles their natural hair in the front. In general, they come with clips and adjustable straps on the back of the cap to fix the hair.
The best human hair wigs offer users plenty of options to pick from. Those who want the curly look can achieve this by wearing a headband with a curly wig attached to it. Headbang wigs are also available for those who want straight hair. These accessories are available for each type of hairstyle. In some instances, women prefer to add some volume or length to their hair to make it look balanced. Wearing wigs makes this possible.
A lot of women use wigs to avoid the hassle of maintaining their hair. These wigs are quite easy to use and save users some time. They will provide them with a look that will last for a long time. Moreover, these wigs can serve as protection for one's normal hair. Women don't have to dye their hair to have a certain look. They can just put on these wigs and enjoy a natural hair option.
How Headbands with Wigs are Prepared?
Headbands with wigs are a combination of machine-made wigs and headbands. The wig part is composed of breathable wig cap material with 100% high-end human hair obtained from unprocessed virgin hair of donors. It is made with an elastic, soft, and stretchable cloth that lets the cap size fit head properly.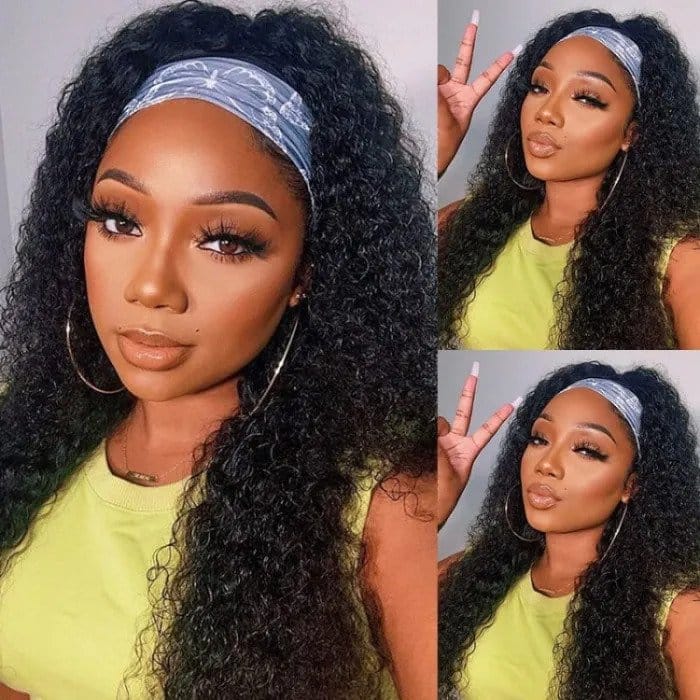 Benefits of Headband Wigs
Headbands with wigs come with various textures on the market. Human hair bob wigs are an excellent option for beginners because of their convenience and style. The following are the benefits of wearing headbands with wigs:
Hairline protection. Headbands with wigs have no lace, so users won't have to spend time cutting extra lace. Also, they don't have to use glue for installing the wig, preventing poor-quality glue from damaging their hair and protect their skin. Putting on the wigs requires less time, making them a timesaver in today's rush life.
Breathability and lightweight. Wigs, especially those made of human hair, are quite light and can cover the entire scalp. Also, they are breathable and suitable for both summer and winter.
Cost-effectiveness. Headbands with wigs are less costly than equivalent lace frontal wigs. They are more affordable because of their being machine-made.
Availability of many options. The wigs are available with wide choices including half wigs and full wigs. Customers can choose wigs based on their personal taste such as curly half wig, straight full, curly full wig, and half wigs. Generally, these wigs are ready to use; however, depending on the choice, occasion to wear them, and style quotient, users may opt for custom-made wigs. Their choices can be made according to their preferred color, hair tyle, density, and texture.
Self-expression. Wearing a headband wig is fun and wearers can express themselves in a funky way. The wigs are quite useful for events such as costume parties, Halloween, and cosplay events. Women like to express themselves in a fashionable way and their hairs play an important part in this.
Style variety. The headscarf is separated from the elastic cloth, making it changeable. Users can use different headbands to suit different occasions and match different kinds of makeup and clothes to display their temperament. And because the wig covers the entire head, wearers can do ponytail or buns for special occasions, particularly in hot summer.
Headbands with wigs make it possible for women to get new hairstyles in just minutes without visiting a salon. These accessories are the best way to embellish one's look regardless of the occasion. This is the reason more and more celebrities are wearing them. As they make life much easier, users can concentrate on more important tasks that need more attention than managing their hair. Hair is a significant part of one's personality and headbands with wigs can greatly improve the look of those who wear them.
Ellen Hollington is a freelance writer who offers to ghostwrite, copywriting, and blogging services. She works closely with B2C and B2B businesses providing digital marketing content that gains social media attention and increases their search engine visibility.